New statistics reveal that Colchester is still one of the fastest growing towns in the UK, classing it, very fashionably, as one of the countries biggest 'boom towns'. Recent studies show the population of Colchester has been rising over the last ten years, and is forecast to continue to grow over the next decade. But, lets put the statistics to one side for a moment and speak to a few individuals about why this might be so.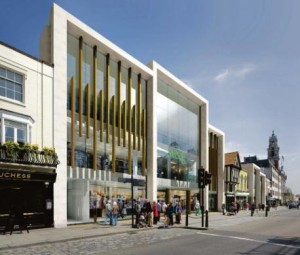 Why Colchester?
Kayla Conley is a property investor in Colchester and believes that this recent growth in the housing market is down to an improvement in housing quality in the area and the variety of tenants looking for rentals.
"In Colchester you can get value for your money and as an investor you can find the tenant type that you are looking for. With rentals especially, the specification quality is much higher, because there are many rental properties to choose from."
As a young property investor in the area with a family Kayla says that the calmer, quieter way of life outside the city is much more attractive for young families and says that it comes down to a lifestyle choice, whether to live in the city or not. But ultimately, while quality of life does contribute to her personal investment decisions, Kayla says money does have a part to play of course: "As a young investor, you can buy a three-bedroom for £130k and let it for approximately £650-700 and get a return on your investment but it is more risky in London to expect a good return from your investment, as things are more expensive in the outset."
Why not London?
Charles Aji and his wife are first time buyers in the London area and have recently jumped on the property ladder, taking their first tentative steps through the housing market. Charles tells us that they had been trying to buy a house for 12 months, before finding the right one, and he says, 'it hasn't come without its challenges', but choosing to settle outside of London, he thinks, is becoming a much more popular option.
"You do get more for your money in this area, which allows for much more flexibility when it comes to how long you can stay at a property for. For the same price we paid for our one bedroom place, we would pay the same for a studio tiny corner box house in west London."
Access to Colchester
However, it isn't just about London being the more expensive option, it's just as much about the smaller details, too: "We like the subtleties that come with living close to the country. London can be very busy and hectic. We like coming back to a quiet environment," Charles adds.
It seems that quality of life is high up on the priority list then, as Colchester not only benefits from being outside the city, but it's also in close proximity to London for those who commute to work in the big smoke. Charles adds: "That is definitely a factor that we considered to help us focus on an area. Choosing a commuter town was important for us, to make sure we were close to London."
The current economy
Could then the choice to migrate away from cities and towards smaller commuter towns be down to the current economy? Looking at the statistics…
Charles says: "It is a numbers game – in terms of affordability. There are plenty of places we can afford in England. So getting onto the ladder is not an insurmountable issue, it's just what our preference is." But, whilst there are affordable places on the market in England, not everyone is as lucky as Charles.
Quality of life
25 year old Sarah Reeves, is a young working professional living in Colchester and has been trying to save up for a deposit for a flat. Since graduating University three years ago, she's been working and saving in the hope that she'll soon be able to afford her own place.
"London was always the dream, but realistically was never an option financially for me to consider investing there. It's not only more affordable to settle in Colchester but I can see its potential as a growing town, which is attracting young working professionals away from the big cities, who are in search of an alternative."
"Some of my friends are living in London, after getting jobs straight from University, but they haven't been able to save up to buy property there and some are gravitating back towards Colchester, where life is slightly slower, but far more enjoyable when you don't have to worry about bills and can actually put some money aside each month to save up for the future," she adds.
Future prospects
In terms of property investment, Colchester seems to offer great investment opportunity. "You get a lot more for your money in this part of the country," admits Charles, and puts one of the benefits to settling in Colchester down to the variety of customer profiles that investors can let their property to, for example Colchester is also a thriving student town, so business is also booming in this respect.
There are still obvious difficulties such as the mortgage market becoming less predictable for new entrants: "I know of some folks who have come stuck during the mortgage approval process. One minute the banks want to lend, but the next minute they're doing all these due diligence checks and asking for documents that would potential slow down the process," he says.
But, Kayla agrees, the success of Colchester down, is as much down to the variety of young people that are migrating to Colchester as much as it's proximity to the city: "The location does help as people live and work in London but the fact that it's a University town, gives landlords a really good tenant choice, for example freshman, sophomore and young professionals are a great market to let to," she adds.
Youth of today
But, the future is bright because data from the 2012 Colchester Housing Statistics Mid Year Estimate (MYE) put the Borough population at a 1.4% increase from the 2011. And, when you break it down, the numbers show that the majority of the population (65%) are estimated to be within the 16-64 age bracket with only 16% of the population being over 65 years old and only 17% under 15. Colchester seems to be attracting young working professionals who are seeking more affordable housing. The rate at which the younger generations are moving into the area is also rising, so perhaps things aren't as gloomy as they first seem when it comes to jumping on that housing market, after all.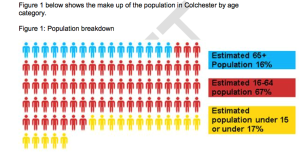 "All in all, they say the first purchase is the hardest so we're hoping things will be easier from here on out," explains Charles, who thinks getting rid of stamp duty could help new time buyers.
The figures support Charles' positive attitude, and show that between April 2012 and March 2013 a total of 617 new homes were built in Colchester, with 6,054 households planning a move to owner occupied housing and 1,636 to private rented housing. Additionally, the main type of property in demand was identified as semi-detached households, with 46.5% of movers requiring a three-bedroom home.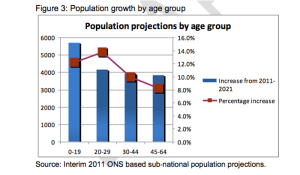 Did you know?
34% of people would choose to live in North Colchester. Participants said that the 'quality of neighbourhood' followed by being 'closer to work' were the main reasons for wanting to live in this area.
Charles' top tips for getting on the property ladder
Clean your credit file. Sign up to Equifax and Experian to check your credit score. You want to be seen to have good credit rating.
Pick an area that matches your affordability. There's no point searching in an area that would take you 10 years to save for
a deposit.
Get a friendly advice from a mortgage broker. Some estate agents offer this advice. Tell them about your circumstance and they will give you guidance on what lenders are looking for.
Make sure you are not over leveraged. For example, going into your overdraft or spending more than your monthly income.