Platinum Crown can guarantee your rent for periods of 1, 3, & 5 years.
Guaranteed rent is paid regardless of the rent being paid by the tenant.
15 Benefits of our Guaranteed Rent Scheme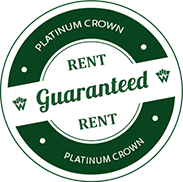 Voids are fully covered
You could save £££s
Letting agent fees are covered
We handle and pay for evictions
You won't need to pay commissions
You won't need to worry about maintenance
You will have more time to do the things you love most
All of your properties within London and the South-East may be eligible
We'll handle all tenant problems
You won't need to do monthly bookkeeping
Utilities, insurance, and council tax are covered by the scheme
You won't need to carry out inventories
You can increase the size of your portfolio with ease
We'll carry out regular property inspections for you
You will be free to plan for the future with confidence
Fill out our form below to receive our Guaranteed Rent Offer:
We use a mix of off-line and online advertising techniques to ensure that your property gets maximum exposure. We do not rest until your property is let.
Support where you need it
You can benefit from our bespoke systems that enable us to tailor our services to your exact requirements.
Personal yet professional service
All members of the Platinum Crown team are trained to understand your needs and go the extra mile to help ensure that you get the service that you deserve.