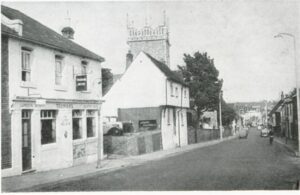 In conjunction with St Leonard's Church in-the-Hythe and other Colchester Heritage venues, Platinum Crown's office (formerly known as the Lord Nelson pub) will be opening to the public on September 8, 2018, between 10am and 4pm.
Platinum Crown has been at the heart of the Hythe community for many years becoming part of its history, everyday life, and fabric. We have been involved in various community activities in the Hythe, but this is the first time we have opened our office to the public on National Heritage Day, sharing our knowledge of Hythe Hill's bygone days.
Our office, formerly The Lord Nelson pub, was built circa 1720 and records of publicans run from 1881. The pub was sold to Truemans in 1955 and after a gas explosion in 1971, which badly injured the landlord, it was thought the pub would be demolished. However, it re-opened in February 1973.  The pub was refurbished and in 2013 Platinum Crown took over the building (office previously at the Colchester Business Centre).
Hythe Hill was officially named in records in the Towns Improvement  Act 1847 and stretches from Port Lane to the bottom of the eponymous hill.  There has been a community in the Hythe for at least the last thousand years. The origins of Hythe Hill date back to the 11th Century, when the port moved from the old Hythe and this area become known as the new Hythe. The Church of Leonard's in-the-Hythe was on the edge of a 12th-Century settlement, being first recorded in 1150. By the mid-14th Century, Hythe Hill had extended southwards from the bottom of the hill.  A shop with a "solar" above it had apparently been built on a tenement on Hythe Hill in 1384.
Almost all the properties on Hythe hill are Grade II listed, with at least six having been public houses, each with their own fascinating histories and stories.
If you would like to find out more about Hythe Hill and many of its properties, please come and see the presentation, which will be running throughout the day, with refreshments served.  Parking will be available at the Hythe Community Centre.